In volatile markets, breakout trading can be a profitable approach, but it's loaded with falsified signals and false breakouts that can put even the most experienced traders off. In this article, we'll be going over what a fake breakout is and how to prevent them in our trading.
What Is A False Breakout?
When the price rises above or below a significant support or resistance level for a brief period of time before returning to the same side from which it began, this is known as a false breakout. This is the worst-case situation for a breakout trader who enters a trade immediately after the price breaks. On our chart, we are immediately confronted with a red arrow, and the breakout we traded is beginning to look less and less credible.
It's difficult to watch breakout trades crash in front of our eyes, and we're left to decide whether to stay in and "ride it out" or close the deals for a rapid loss. Neither of those alternatives appears to be very appealing. To prevent this from happening again, we'll need to add a new rule to our existing breakout trading strategy.
How to Avoid a False Breakout
The solution to this issue is actually rather straightforward. Rather than acting on a trade right away when the price breaks a significant level, we should wait until the candle closes to verify the strength of the breakout. Setting entry orders above or below a support or resistance level in order to automatically enter a breakout trade is not a good idea. We can use entry orders to get "wicked" into breakout trades that never materialize.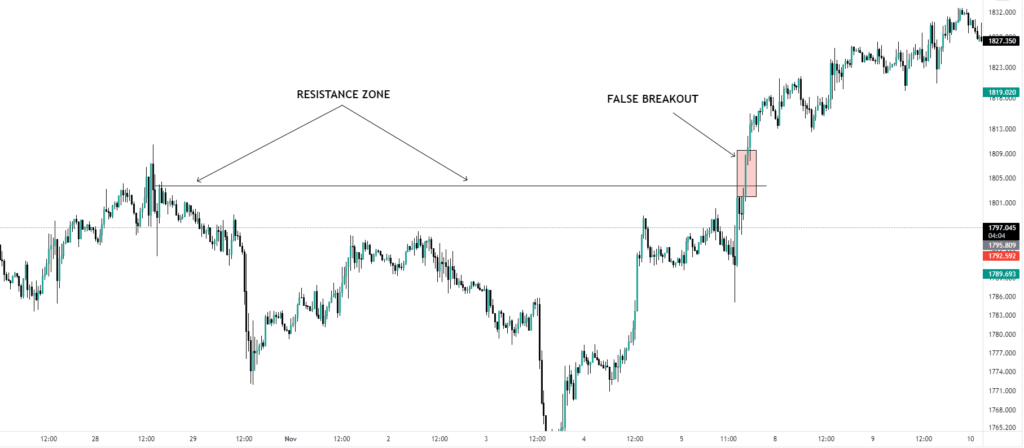 On the surface, this would lead us to conclude that the only way to trade breakouts efficiently is to be ready to execute as soon as the candle closes in the breakout area at our trading terminals. After the candle has closed, we can open our position, which has a better chance of succeeding. But what if we don't have the entire day to wait for breakouts?
Using the Close Prices of the Candles to Set Alerts
So, if physically waiting for a breakout at your computer isn't an option, I recommend setting up a price alert that uses the closing price of each candle as its trigger. To put it another way, you'll only get an alert if support or resistance is breached and remains broken until the candle closes. You'll be able to receive your alert, log in to your PC or mobile app, and place the trade that way.
Once we've chosen a price level, we'll only be notified if a candle closes above or below it, rather than being notified every time the price is broken in real-time. For an hourly chart, this means we'd only be notified after each bar closed at the beginning of the hour. We were seeking something similar to this.