Within a span of 7 days, the fourth largest cryptocurrency exchange, FTX, was wiped out from the history of its existence. A $32 billion-valued business filed for bankruptcy and was faced with allegations like unregistered securities, civil conspiracy, mishandling of customers' funds, and miscalculating leverage and liquidity. 
Contributor – Rean
Cofounded by the former Wall Street trader Sam Bankman-Fried and ex-Google employee Gary Wang in May 2019, FTX gained massive popularity within just 3 years, onboarding hundreds of high-net-worth investors. They not only failed alone, the whole industry of cryptocurrency went downhill with them. 

On November 9, Bitcoin suffered a catastrophic setback that caused its price to fall by 15%, to $15,625. Solana was the worst, with a weekly price decline of 42.5%. Ethereum also experienced a loss.
The FTX meltdown had a devastating effect on the cryptocurrency sector, with BlockFi being one of the most significant casualties. Gemini and Crypto.com both endured a terrible decline up to a certain point.

If you are somehow related to the crypto market, then you must remember the BitConnect incident back in 2018. This was an open-source cryptocurrency that was connected with a high-yield investment program, a type of Ponzi scheme. At that time, bitcoin faced a devastating crash from $20,000 to $3000 within days. After 4 years, we encountered another Ponzi scheme in the market, FTX. 

After one tweet from Binance CEO, Changpeng Zhao exposing the instability of FTX, Sam Bankman-Fried lost 94% of his net worth. This is the most money a billionaire has lost in 24 hours. This caused him to lose both his companies, Alameda Research and FTX.
……..
The Beginning Story of the Crypto FTX
In 2019, Binance invested in FTX as a shareholder; they were one of the early investors in the company. You might ask, "Why would a big company like Binance invest in a start-up like FTX?" Well, like OnePlus and Oppo, they are part of the same company but target different customer bases. Binance wanted to do the same by being a part of FTX. They wanted to handle all the big clients while FTX looked after the mid-range clients. But things started to change when FTX started to grow exponentially and became a direct competitor of Binance. Binance left FTX in 2021 with 2.1 billion dollars in BUSD and FTT in its bank account.
……..
The Beginning of the Doom of FTX
After Binance lifted their hands off of FTX, they were like unsupervised children with a $10 billion fund. It was revealed that all the funds/cryptos in FTXX deposited by customers were not even tracked into separate accounts, they were all funnelled into slush funds to be used for everything. The leaders of the company had no idea how much cash was on hand at any given time. There were no board meetings. All employee expense requests were approved over chat with personalized emojis. "Hey, Karen, can I afford a yacht?" The "Astronaut" emoji means "approved." SBF (Sam Bankman-Fried) and his team were buying mansions and yachts and spending customers' money on other extravagant things. It was like a Bahamian frat house, run by unsupervised children with a $10 billion fund.

All this information was in the 30-page report released by John J. Ray. Ray is an American attorney who takes part in high-profile bankruptcy cases. "This is the worst case of financial fraud I have ever seen in my life," he stated.

……..
The Key Reason for the FTX Collapse
For months, FTX has been bailing out struggling cryptocurrency businesses. After the LUNA collapse, Alameda Research, FTX's sister company, took a hit, and SBF transferred $10 billion from FTX customer funds into Alameda Research. When CZ saw this reckless behavior, he warned SBF, but he didn't listen.

Sam Bankman-Fried tried to make money out of thin air by creating a token named FTT. FTX sold FTT to Alameda Research at a discount. SBF then pumped up the price of FTT tokens, while on the other side, Alameda Research was taking huge loans, keeping FTT tokens as collateral. Some analysts say that Binance liquidated its position in FTT tokens before the Twitter announcement. A liquidity crunch was seen, and all user withdrawals were put on hold. This caused panic in the market, causing the FTT token's value to decrease drastically. FTX declared Chapter 11 bankruptcy. This is considered one of the greatest frauds of all time.

……..
The Last CountDown and End of the FTX Saga
The journey began back in July, when Fast Forkast published: "Voyager crypto firm loaned US$377 mln to Sam Bankman-Fried's Alameda Research."
November 2nd:
A document from cryptocurrency news site CoinDesk says that Bankman-crypto Fried's trading company, Alameda Research, was very dependent on FTX's native token, FTT. This made people worry a lot about how much debt Bankman Fried's companies were hiding and how stable they were.
Link: Divisions in Sam Bankman-Fried's Crypto Empire Blur on His Trading Titan Alameda's Balance Sheet
……..
November 6th:
Changpeng Zhao, the CEO of Binance, said on Twitter that Binance will sell any FTT tokens that are still on their books. around 23,000,000 tokens worth approximately $259 million. This tweet and a series of tweets awakened fear in the minds of FTX users.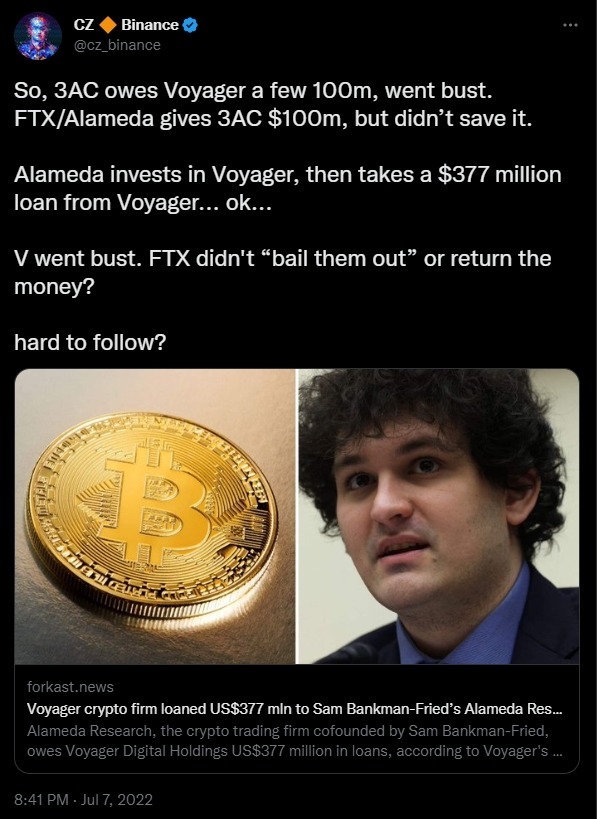 ……..
November 7th:
In the days after the CoinDesk report came out, customers asked for withdrawals worth $6 billion at a time when FTX was having trouble getting money. Bankman-Fried started looking for venture capitalists.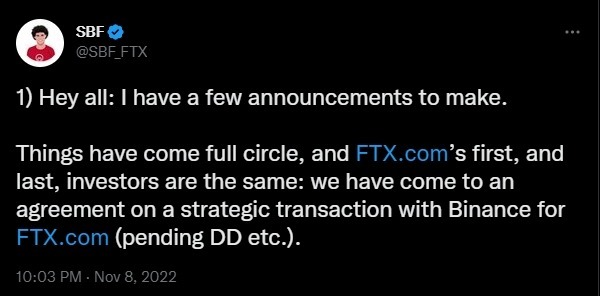 ……..
November 8th:
Binance said that it had made a non-binding deal to buy FTX's non-U.S. business for an amount that wasn't disclosed. By doing this, it saved its close competitor. But this agreement was short-lived.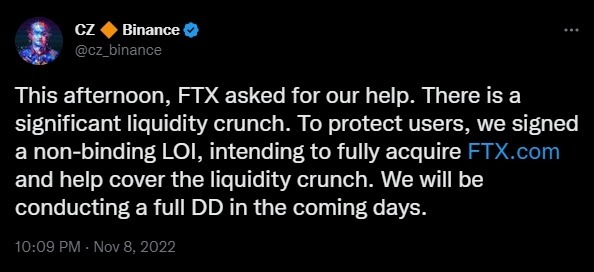 ……..
November 10th:
The Securities Regulator of the Bahamas froze the assets of FTX Digital Markets and Alameda Research. The California Department of Financial Protection and Innovation said that they have started an investigation into FTX. A notification on the FTX website was interpreted as "strongly discouraging deposits."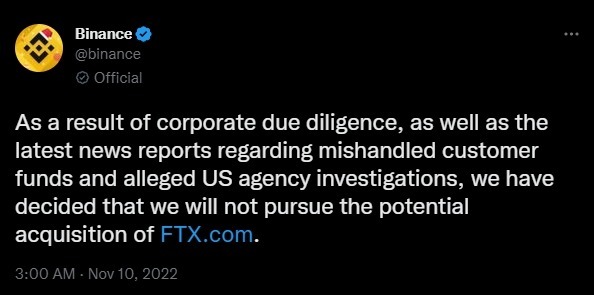 ……..
November 11th:
On November 11, Alameda Research, and nearly 130 additional affiliates filed for Chapter 11 bankruptcy in the United States. CEO Bankman-Fried resigned.

Within hours of filing for bankruptcy, FTX said it had found illegal access. Between $1 billion and $2 billion that had been transferred from FTX to Alameda Research had gone missing. FTX relocated its digital assets to cold storage for security purposes.

……..
November 16th:
Tom Brady, Gisele Bundchen, Kevin O'Leary, Udonis Haslem, David Ortiz, Steph Curry, Shaquille O'Neal, Trevor Lawrence, Shohei Ohtani, Larry David, and Naomi Osaka were all accused of civil conspiracy in connection with at least $1 billion in missing customer funds. Edwin Garrison, who lives in Oklahoma, filed a lawsuit against FTX over the damage caused by exchanges that stopped working because of liquidity problems.
……..
It was once assumed that FTX had a bright future, but all of the political lobbying, donations, aggressive marketing structure, and purchase of the naming rights to the Miami Heat basketball team couldn't keep Sam Bankman-Fried and his $32 billion-valued cryptocurrency exchange platform FTX from declaring bankruptcy in 10 days.